BRADLEY AIRPORT | GUIDE TO BRADLEY AIRPORT (BDL)
Origin
Airline
Flight no.
Scheduled
Est./Actual
Status
No flight arrivals were found at Bradley Airport.
Destination
Airline
Flight no.
Scheduled
Est./Actual
Status
No flight departures were found at Bradley Airport.
Car Hire at Bradley Airport
UNBEATABLE VALUE CAR RENTAL
Free Amendments | Free Cancellations | No Card Fees



Bradley Airport - All Information on Bradley Airport (BDL) Bradley Airport
Bradley International Airport, Schoephoester Rd, Windsor Locks, CT 06096, USA
phone +1 860-292-2000
phone+1 860 292-7400 (Lost + Found)
Facts and History about Bradley Airport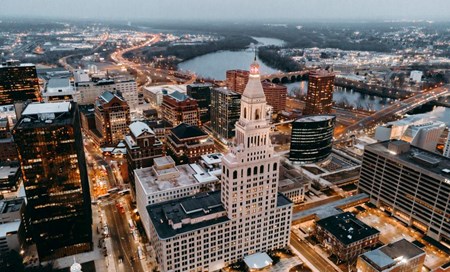 One of the busiest landing fields in New England next to Boston's Logan International Airport is Bradley International Airport (IATA: BDL ICAO: KBDL). It is a commercial airport located in Windsor Locks, Connecticut, United States. It is owned and managed by the Connecticut Airport Authority and is known as the second-largest airport in New England.
The airport has been a dual-use military facility of the U.S. Air Force and a home to Connecticut's 103rd Airlift Wing Air National Guard. "Gateway to New England" is what Bradley was initially recognized as it houses the New England Air Museum. Also, Bradley International Airport is considered Connecticut's largest airport.
In the Condé Nast Traveler's Reader Awards, Bradley International Airport ranked second on the 'Best U.S. Airports' list. BDL has been acknowledged as a "top-ten airport" for six successive years, and this 2022, it was given its highest ranking to date.
Rental Car Services at Bradley Airport
Hartford, the capital city of the U.S. State of Connecticut, also known as home to many insurance company headquarters, is frequented by many travelers. Hence, car rentals are also in demand.
Bradley International Airport offers various rental car services for your convenience and to make your Hartford trip more memorable, its surrounding towns, and its region.
Have convenient access to nine rental brands inside Bradley International Airport Ground Transportation Center adjacent to the airport's main terminal, Terminal A. The rental car brands and their respective counters and customer service areas are located as follows:
Floor 2: Avis, Budget, Payless
Floor 3: Enterprise, National, Alamo
Floor 4: Hertz, Dollar, Thrifty
For more information, you may visit our car rental page.
Taxi Services at Bradley Airport
Taxi services are one of the most convenient transfer services at Bradley Airport.
They are available on demand or by scheduling ahead of time.
You can access the taxi services outside the Arrivals/Baggage Claim Level, between exit doors 2 and 3. An attendant is on-site to assist with the traffic flow and ensure you are all set for a taxi ride.
Arrow Cab, Yellow Cab Co., ABC Taxi, and Rana Cab Co. — are the taxi services available at the airport.
For more inquiries, you may visit our Taxi Page.
Train Services at Bradley Airport
Bradley Airport is not connected to any city or town in Connecticut or the surrounding area by train. However, Windsor Locks is a train station just three miles from Bradley Airport. This line is your best bet in terms of proximity to Bradley International Airport.
Youu can take a CT Transit bus to Bradley International Airpor from the Windsor Locks RR stationt. The Route 24 Bus Service operates Monday through Friday, 5:30 AM to 11:30 PM. More information about train services near Bradley Airport.
Travelers can reach the Windsor Locks RR Station by taking either a bus or a taxi.
Bus Services at Bradley Airport
CTtransit provides a dedicated bus, called the 30-Bradley Flyer, to conveniently link Bradley International Airport and downtown Hartford. The Bradley Flyer provides semi-express, direct service to the Connecticut Convention Center and Union Station in Hartford.
The trip lasts approximately 30 minutes and currently operates every 40 minutes on weekdays and Saturdays, and roughly every hour during the early morning hours, late at night, and on Sundays.
The fare is $1.75 for one-way.
For more information, you may visit our Bus Page.
Hotel Shuttles at Bradley Airport
The Sheraton Hartford Hotel is located within the premises of Bradley Airport. Passengers can walk from the airport's gate to the front desk.
However, Bradley is also surrounded by major hotels, all within minutes of the airport. Throughout the region, there are many regional hotels as well in every direction if you need to get closer to your destination.
Most of them provide or offer shuttle services to travelers upon their booking. However, fees may apply depending on your destination.
For further information, please visit our hotel page.
Rideshare Services at Bradley Airport
One of the most accessible and convenient transfer service types when traveling is rideshare. With just a few clicks from your phone, you'll have a car ready to pick you up from your location in 3-5 minutes after your request.
Uber and Lyft are the two Ride App companies authorized to operate at Bradley International Airport.
Parking Services at Bradley Airport
With the recent terminal enhancements and new amenities, parking at Bradley Airport has been made easier and more convenient, especially for departing passengers that resides in Hartford.
Bradley Airport offers short-term and long-term parking. You can select from the covered or indoor garage or outdoor parking at one of their car parks. No reservation is needed. Arrive and park.
Parking options at Bradley Airport range from a short walking span to a quick shuttle ride to the terminal.
For more details, you may visit our Airport Parking Page.
Other Services at Bradley Airport
Bradley Airport is the second largest airport in New England. It offers various amenities suitable for its guests' comfort and convenience, from Information Desks to complimentary WiFi access, ATM Machines, Restaurants, Cafes, Bistro, ATMs, Shoppes, and Clubs/Lounges.
Disabled Passengers at Bradley Airport
Bradley Airport is designed for convenience and ease of use for everyone, including persons with disability.
Bradley has several accessibility features like Visual paging monitors and courtesy phones throughout the airport. Volunteer Airport Ambassadors are conveniently located at the lower level information desk to make visual pages, answer questions, and assist travelers. The Connecticut State Police and Airport security officers are also available at key locations throughout the terminal, inside and outside, to help travelers with special needs.
All passenger pick-up and drop-off locations are accessible to airport entrances, and departing and arriving passengers can request wheelchair assistance with their airline. For departing passengers, please contact the skycap podium or the ticket counter agent for aid once you reach the airport's departure level. Upon arrival back to Bradley Airport, the airline will have the wheelchair waiting for you at the gate if the request was made in advance.
Bradley International Airport offers a specially equipped lift to facilitate boarding by individuals with disabilities on commuter aircraft. Persons with disabilities may request reasonable accommodations by contacting your airline for airline-related needs. For airport facility needs, you may contact Airport Operations at 860-627-3001.
WiFi at Bradley Airport
Bradley Airport offers Free WiFi throughout the airport terminal. Bradley's WiFi network name is "BDL_Airport_ Free_WiFi."
Baggage Claim at Bradley Airport
The baggage claim area is on the terminal's ground level for arrivals and can be used for meeters & greeters.
Luggage cart dispensers are located on the baggage claim, specifically at the arrivals level. They may be rented for $5.00 each with a rebate of .25 issued upon return of the cart. The dispensers are equipped to accept credit cards.
Smoking at Bradley Airport
Smoking is not allowed inside the terminal. However, there are designated smoking areas outside the airport where smoking is permitted.
Information Desk at Bradley Airport
There are two information booths located inside the airport, which offer tourists and travelers assistance and paging services. One is located near the Baggage Claim Area at Terminal A's lower level, and the other is in the Departures Area.
Lost and Found Section at Bradley Airport
Losing your items or baggage could be frustrating. Suppose you lost your luggage upon arrival at Bradley Airport or left n the aircraft. In that case, you may contact the airline's baggage claim department. However, articles lost or unattended anywhere within the inspection lanes and the screening area are processed by the TSA's (Transportation Security Administration) lost and found personnel.
Passengers that have lost an item may call +1(860) 292-7400.
Restrooms at Bradley Airport
Bradley Airport restrooms are spotless and slick with its upgrading recently. Almost all bathrooms are touchless, from the faucet to the soap and toilet paper dispensers and hand driers. All of these upgrades are for the airport guests' convenience.
Also, all restrooms at Bradley International Airport are wheelchair accessible. Unisex companion-care restrooms are also available adjacent to most of our restroom locations throughout the terminal.
Nursing Mother Stations at Bradley Airport
Nursing rooms are also one of the thoughtful amenities at Bradley Airport.
Mothers traveling through Bradley International Airport will find feeding their children a bit easier and more comfortable with the airport's opening of a new, dedicated area for nursing needs.
The Mother's Nursing Lounge is located post-security, next to the CNBC store. It is available round-the-clock and features comfortable seating, a sink, a fold-down changing table, and a power outlet for mothers who use electric pumps.
ATMs at Bradley Airport
Bradley Airport has Automatic Teller Machines (ATM) stationed throughout the airport. They are available at the Arrivals and Departures Area.
Currency Exchange at Bradley Airport
Currency exchange at Bradley Airport is currently unavailable. However, there are a few currency exchange services near the airport at Windsor Locks.
Food and Beverages at Bradley Airport
Passenger guests can pick from a wide selection of foods at Bradley Airport while waiting for their flight schedule. They also offer takeaways for those who are in a hurry.
Restaurants, cafes, bars, and nightclubs inside the airport are also available inside the facility.
Shopping at Bradley Airport
Suppose you are looking for a gift, a brand new phone, reading materials, or maybe some time to kill before your flight. In that case, Bradley has a lot to offer, from restaurants, cafes, eateries, bars, and nightclubs to clothes, cosmetics, accessories, perfumes, and gadgets. You can find lots of things at Bradley's shops that suit your needs.
Pet Relief at Bradley Airport
Bradley International Airport welcomes guests, and traveling pets or service animals are accepted at the airport.
Outdoor relief areas are located on the lower ground level, at both ends of the terminal building, adjacent to Doors 1 and 6. Follow the painted paw prints on the sidewalk. We also have one pet relief area inside Terminal A, near the iStore. Please follow directional signage.
Passengers are encouraged to allow their furry friends and service animals to use the relief areas before their scheduled flight.
Disposable bags, a scooper, and a trash can are available.
To ensure a smooth travel experience, passengers traveling with pets must review the general guidelines of Bradley International Airport for passengers traveling by air with pets and service animals.
Ticketing Service at Bradley Airport
You can find ticketing outlets at Terminal A of Bradley Airport. Passengers can book their flights as soon as they arrive at Bradley. However, we advise booking your flight days ahead of your schedule to avoid inconvenience on your part. The ticketing outlets at Bradley open between 4 am to 5 am.
You may refer to Bradley International Airport's official page for more details.
History of Bradley Airport
In 1940, Bradley's acquisition of 1,700 acres of land in Windsor Locks was then turned over to the U.S. Army 1941 as the country began preparations for the impending war.
It was known that the whole landing field facility was named after Lt. Eugene M. Bradley of Antlers. He was a former U.S. air force assigned to the 64th Pursuit Squadron. He died when his P-40 crashed during a dogfight training drill or in an aerial battle between fighter aircraft at close range.
The airfield began civil use and international cargo operations in 1947. Eventually, Bradley replaced the small and old Hartford–Brainard Airport as Hartford's primary airport. The federal government then assigned Bradley Airport to the State of Connecticut for civilian and commercial use.
In 2001, the airport expanded Terminal A with a new concourse, International Arrivals Building, and centralized passenger screening.
In 2002, the new East Concourse opened, followed by the new International Arrivals Building on Terminal B, housing the Federal Inspection Station with one jetway. This expansion project was designed by HNTB Construction, an American infrastructure design firm.
About Hartford, Connecticut
Connecticut's capital city is Hartford. It used to be the seat of Hartford County, not until Connecticut disbanded it in 1960.
Hartford is the core city in the Greater Hartford metropolitan area and the fourth largest city in Connecticut. It is among the oldest cities in the United States.
Gifted with many historically significant sights since its founding in 1965. Hartford became the home to the country's oldest public art museum, the Wadsworth Atheneum Museum of Art.
Hartford was the wealthiest city in the U.S. for several decades following the American Civil War. Ironically, Hartford is one of the country's poorest cities, with three out of every ten families living on the verge of the poverty threshold.
Weather in Hartford, Connecticut
Hartford lies in the humid continental climate, which embodies four distinct seasons and sizeable seasonal temperature differences. Winters are cold, with long periods of snowfall, while summers in the area are warm to hot and humid.
Spring and fall are typically transition seasons, with weather ranging from mild to cool temperatures. Precipitation is also expected throughout the year but often does have dry seasons.
In Hartford, usually from May through October is warm to hot. June, July, and August are often the hottest months. In the summer, high humidity is often expected, and an occasional but short period of thundershowers.
The cool months start from November to April, experiencing the coldest weather in December, January, and February having moderate high temperatures of 35 to 38 °F.
Useful Contact Details
Hartford is the fourth largest city in Connecticut and first-time travelers navigating a new place is complicated and confusing.
However, Hartford, one of the country's oldest cities, is also rich in cultural and significant historic sights.
Hartford City is a grand touring venue with picturesque surroundings and attractions. Here are some tips that travelers need to know to get by the city:
Understand the traffic patterns of the city. Hartford has a penchant for traffic jams with frequent bumper-to-bumper conditions. However, knowing the city's layout may give you a significant advantage in avoiding traffic,
Take backroads, stay off the major highways and avoid driving during rush hour. Using public transport is advised if possible, so you can lessen your contribution to traffic problems.
Hartford has a sound system of paths and a public bike-share program. You may rent a bike and cycle around the city center to get the feel of Hartford City.
United States Emergency Phone: 911
If you require emergency assistance, be it a medical, fire, or crime-related emergency, the U.S. has only one telephone number to call, and it's 9-1-1.
An operator will ask you questions about the location of the emergency, the phone number you are calling, the type of emergency, and the details about the trouble. The appropriate response team will come to your rescue as quickly as possible.
Hospital
Hartford Hospital
Address: 80 Seymour St, Hartford, CT 06106, United States
Phone: +1 860-545-5000
Police Station
Hartford Police Department
Address: 253 High St, Hartford, CT 06103, United States
Phone: +1 860-757-4000
Bradley Airport Contacts
Address: Schoephoester Rd, Windsor Locks, CT 06096, United States
General Phone: +1 860 292 2000
Lost and Found Phone: +1 860 804-4109.
Information Desk: +1 860 292-2056
Official Website: https://bradleyairport.com/
Local Information
Drive on: Right
Electricity: 120V/60Hz
Plug: A and B
Currency: U.S Dollars, $
WiFi at the airport: WiFi connection is available at Bradley Airport.
Services at Bradley Airport
Useful Information about Bradley Airport