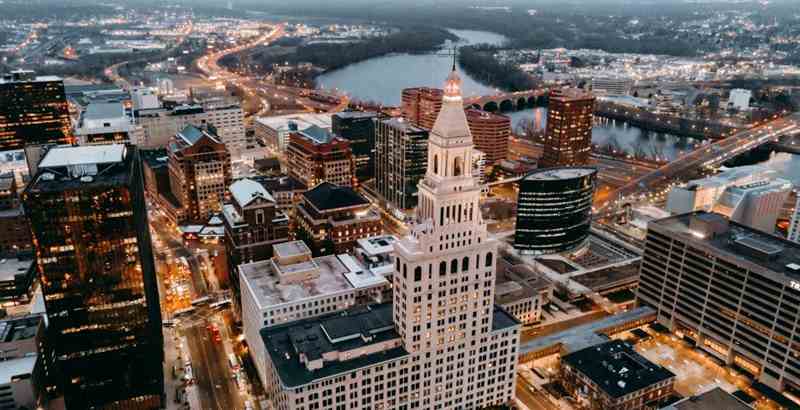 Hartford Tourist Attractions
Hartford is one of the most ancient cities in the United States, aside from being the fourth largest city in Connecticut. It has been filled with many historically significant tourist sights since its founding in 1965.
Hartford became the home of Wadsworth Atheneum Museum of Art, Bushnell Park, Hartford Courant, and the second-oldest secondary school, the Hartford Public High School.
It is also home to the literary genius Mark Twain, author of 1876- The Adventures of Tom Sawyer and 1885- Adventures of Huckleberry Finn.
If you are planning for your next trip, Hartford is the best destination for those who love history, literature, and art.
Here are some of the famous attractions in Hartford, Connecticut.
Address: 351 Farmington Ave, Hartford, Connecticut 06105, United States
Tour the home built by Samuel Clemens (Mark Twain) and his wife in 1874. They lived there for seventeen years, having three daughters. This is where Mark Twain also wrote many of his most famous books.
The house is open daily for tours, events, and author programs. National Geographic named it one of the ten best historic houses in the world.
Address: 600 Main St, Hartford, Connecticut 06103, United States
The country's oldest art museum, The Wadsworth Atheneum, has one of the finest American art collections, mainly creations of the Hudson River school.
Wadsworth Museum houses more than 50,000 works of art made by many famous artists in its impressive Gothic-style building.
It exhibits ancient Egyptian and Classical bronzes, collections of European Baroque art, modernist masterpieces and contemporary works, French and American Impressionist paintings, early American furniture and decorative arts collections, and 18th-century German and French porcelains. The exhibitions depict more than 5,000 years of world history.
Address: 250 Columbus Blvd, Hartford, Connecticut 06103, United States
The Connecticut Science Center is a nine-story state-of-the-art facility on the Connecticut River in Hartford, Connecticut. It was designed by César Pelli & Associates, which opened on June 12, 2009.
The building measures 154,000 square feet, including 40,000 square feet of interactive exhibits consisting of videos, audio, visuals, tactile components, programs, and live demonstrations.
Kids and adults alike will surely enjoy Connecticut Science Center. It has an immersive ten-story Science alley that will astonish and amaze adults and youth alike. It features more than 165 hands-on exhibits spanning 10 galleries like Kidspace.
It gives your kids a whimsical and captivating sensory experience that brings hands-on learning and experimenting activities. An Engineering Lab that will show you how engineering applies to the real world, solving interesting problems, and more, plus a 3D digital theater and a Butterfly Encounter.
Address: Connecticut State Capitol, 210 Capitol Ave, Hartford, Connecticut 06106, United States
This fascinating building is a home for Connecticut's General Assembly, the upper and lower house, the Senate, the House of Representatives, and the state's governor's office. Meanwhile, the Connecticut Supreme Court occupies a building built in 1908–1910 across Capitol Avenue.
The building is one of the most significant Eastlake-style buildings. The exterior is made of marble and granite. The building is rectangular, with interior spaces arranged around two open interior courts running vertically to gigantic skylights. In the middle is a third circular concave rotunda beneath the dome.
The Capitol Building is unrestricted to the public. Self-guided and guided tours are also available on weekdays. The guided tours start inside the West Entrance door of the Legislative Office Building.
Address: 1561 Asylum Ave, Hartford, Connecticut 06105, United States
Elizabeth Park Rose Garden is the oldest municipal park in the United States, with about 15,000 bushes of 800 various rose species. In the 1970s, Hartford decided it could no longer afford to maintain the park. Initially, it was proposed to plow it until volunteers teamed up and came to the rescue.
The team's first mission was to raise $10,000 to replace many rose bushes that died from lack of care.
The financial support for the park was through the efforts of the FEP and from individuals, the Ethel Donaghue Trust, and the Hartford Foundation for Public Giving.
Elizabeth Park is included on the national register of historic places.
Address: 1 Jewell St, Hartford, Connecticut 06103, United States
Bushnell Park & Carousel is the oldest publicly financed park in the United States. It was conceived by the Reverend Horace Bushnell in the mid-1850s when the need for open public spaces was starting to be recognized.
Today, the park comprises 20 hectares of green space and is frequently visited by over one million people each year.
It contains the Civil War Memorial, the Pump House Gallery, the Israel Putnam statue, and the Soldiers and Sailors Memorial Arch.
Harriet Beecher Stowe House Center
Address: 77 Forest St, Hartford, Connecticut 06105, United States
One of the historical museums and National Historic Landmark in Hartford, Connecticut, is the Harriet Beecher Stowe House.
It was first opened to the public in 1968. In 1970, the home was included in the National Register of Historic Places and, in 2013, declared a National Historic Landmark.
Today, guided tours are offered to the public, and the house includes original family furnishings and memorabilia. Annual visitation is over 25,000.
Connecticut Historical Society Museum
Address: 1 Elizabeth St, Hartford, Connecticut 06105, United States
The Connecticut Historical Society, or CHS, is a private, non-profit organization that serves as Connecticut's official statewide historical society. It was established in 1825 and is one of the most ancient historical societies in the United States.
CHS is open to the public. It houses a research center containing approximately 270,000 artifacts and graphics with over 100,000 books and pamphlets.
It has one of New England's most significant costumes and textile collections. To accommodate its expanding collection, CHS bought a Colonial Revival mansion initially owned by the inventor Curtis Veeder. The building was then altered to accommodate book stacks, exhibition galleries, an auditorium, and a reading room.
Address: 800 Main St, Hartford, Connecticut 06103, United States
The Old State House was built in 1796 in Hartford, Connecticut. It is generally believed to have been designed by noted American architect Charles Bulfinch as his first public building.
It is one of the nation's old state houses. Several interesting exhibits, paintings, and historical collections are displayed inside the State House. It is also claimed by some as haunted.
Address: next to 60 Gold St, Hartford, Connecticut 06103, United States
The oldest historic site in Hartford is the Ancient Burying Ground, where in the early 1800s, an estimated 5,000 to 6,000 people were laid to rest.
UNBEATABLE VALUE CAR RENTAL

FREE
Amendments,
FREE
Cancellations,
NO
card fees!

airport_shuttle Need Airport Transfers?
Useful Information about Bradley Airport